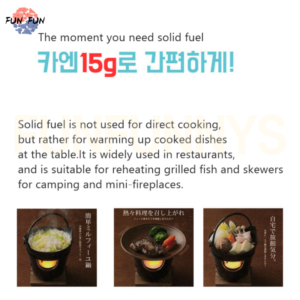 🎈All products are shipped from Korea.
The seller packs it and sends it to you.
Delivery : takes 7-14 days Ship from Korea ✈
💖Official mall products
To explain the best product to customers
I don't know English well, but I'm doing my best
I hope that my sincerity will be conveyed.
✨Please refer to the top image for details.✨
Product Name: Kaen Solid Fuel
Capacity: 15g (20p)
Country of origin: Japan
Manufacturer: Niitaka
Burning time: about 17 minutes
-It is a solid fuel that can be easily used anywhere.
-It is often used for cafes, restaurants, hotels, businesses and camping.
-It is possible to purchase at a more reasonable price when purchasing in large capacity.
The burning time of 15g solid fuel is about 17 minutes.
Good for maintaining and warming food temperature.
☎ Customer response time
▶Monday to Friday : 1 Pm to 1 Am
▶Weekend : 12 pm to 8 pm
If you have any questions, please leave a message on chat.
We are trying to reply as soon as possible.
My store is located in Gimpo, Korea, and I am inspecting and packaging the products myself.
Everything departs from Korea 100%.
If you buy something in my store, a small gift goes with you.
If you're curious about me, come visit Instagram.
(https://instagram.com/seojin_0619)
THANK YOU~😊
#korea #korean#Solid Fuel#Fuel#Stove#Grill#Camping#Japanese#premium