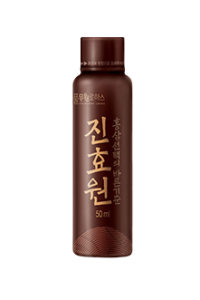 KOREAN PULMUONE Premium Red Ginseng Jin Hyo Won 500 ml (50 ml×10 bottles)
🎈All products are shipped from Korea.
The seller packs it and sends it to you.
Delivery : takes 7-14 days Ship from Korea ✈
💖To explain the best product to customers
I don't know English well, but I'm doing my best
I hope that my sincerity will be conveyed.
🎉a seller certified by the headquarters in Korea🎉
🏆 Lohas is human and nature together
Lohas Company
LOHAS certification, which has strict evaluation conditions such as product process, quality, safety, and hygiene.
It is a corporate product acquired for 12 consecutive years.
Pulmuone is a company with the philosophy of loving neighbors and respecting life.
Koreans support and love the Pulmuone company. We recommend products from
 Pulmuone, the leader in good food, to you
Pulmuone Premium Red Ginseng Jinhyowon
Pulmuone Lohas Premium Red Ginseng Jinhyowon, made with only good things, has excellent active ingredient content of red ginseng and boasts a soft taste.
It is a health necessity that balances the body and mind tired from daily life by simply ingesting one bottle a day.
It is recommended for these people.
-Those who enjoy red ginseng drinks without burden
-When unknown fatigue interferes with daily life
-When fatigue is accumulated such as driving for a long time, studying, working, or working overnight
-Those with severe physical consumption before and after exercise
-If you want to recover your power
Food Type: Red Ginseng Drink
Manufacturer: Pulmuone Health & Living Co., Ltd.
Weight: 500ml (50ml×10 bottles)
Ingredients and content: see details
Date of Manufacture:Products produced within 9 months are sent.
Shelf Life: 1 year and 6 months from the date of manufacture
Country of origin: Korea
☎ Customer response time
▶Monday to Friday : 11 am to 10 pm
▶Weekend : 12 pm to 8 pm
If you have any questions, please leave a message on chat.
We are trying to reply as soon as possible.
My store is located in Gimpo, Korea, and I am inspecting and packaging the products myself.
Everything departs from Korea 100%.
If you buy something in my store, a small gift goes with you.
If you're curious about me, come visit Instagram.
(https://instagram.com/seojin_0619)
THANK YOU~😊
#Korea#Fullmuone#Healthcare#Wellbeing#HealthFunctionalFood#Hongsam#Drink#Gift#Family#Care#Health#Jin Hyowon