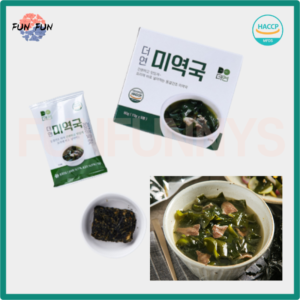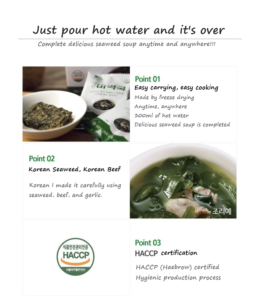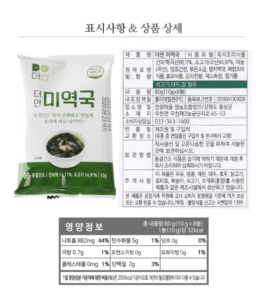 Seaweed soup/Dry seaweed soup/Instant seaweed soup 1 box (10g*8)
🎈All products are shipped from Korea.
The seller packs it and sends it to you.
Delivery : takes 7-14 days Ship from Korea ✈
💖Official mall products
To explain the best product to customers
I don't know English well, but I'm doing my best
I hope that my sincerity will be conveyed.
✨Please refer to the top image for details.✨
The Yeon Freeze Dried Seaweed Soup
-Freeze-dried seaweed soup, which is eaten immediately by pouring only water without cumbersome cooking process. Korean seaweed, beef, and garlic are roasted in sesame oil, then cooked with soy sauce and anchovy fish sauce, and then freeze-dried in a block type.
-Experience the unique flavor and taste of seaweed soup
It is easy to carry with individual packaging, so it is convenient to take it with you when traveling
Korean seaweed and beef garlic
Cleanly manufactured in Haesop certification facility
Freeze-dried manufacturing method that preserves taste and nutrients
Convenience to be completed just by adding boiling water
Weight: 1 box (10g*8)
Main Ingredients: Dried seaweed (Korean), beef (Korean), garlic (Korean), brewed soy sauce,
Stir-fried salt, sesame oil, salted anchovy, etc.
Features: This product is made by freeze drying method, and is individually packaged.
1 pack is the right amount for 1 person
Tasting Note: The savory smell from the clear soup stimulates the tip of the nose first.
☎ Customer response time
▶Monday to Friday : 1 Pm to 1 Am
▶Weekend : 12 pm to 8 pm
If you have any questions, please leave a message on chat.
We are trying to reply as soon as possible.
My store is located in Gimpo, Korea, and I am inspecting and packaging the products myself.
Everything departs from Korea 100%.
If you buy something in my store, a small gift goes with you.
If you're curious about me, come visit Instagram.
(https://instagram.com/seojin_0619)
THANK YOU~😊
#KOREA #KOREAN #Dry seaweed soup#breakfast#mother#health#simple meal