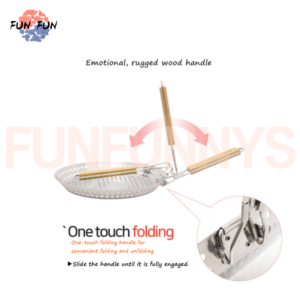 Size:305 mm×35 mm/530 mm
Weight: 555 g
🎈All products are shipped from Korea.
The seller packs it and sends it to you.
Delivery : takes 7-14 days Ship from Korea ✈
💖Official mall products
To explain the best product to customers
I don't know English well, but I'm doing my best
I hope that my sincerity will be conveyed.
✨Please refer to the top image for details.✨
Top and Top Stainless Fire Fan/T070707
-This is a stainless steel direct-fired pan with liquor to enjoy camping and charcoal cooking
-It is a stainless steel perforated fan that is sturdy, durable and hygienic.
-Stainless steel and wood combination handle provides a stable and excellent grip.
-It can be easily folded and unfolded when storing and carrying with one-touch folding method.
-A dedicated storage mesh pocket is included for easy carrying.
☎ Customer response time
▶Monday to Friday : 1 Pm to 1 Am
▶Weekend : 12 pm to 8 pm
If you have any questions, please leave a message on chat.
We are trying to reply as soon as possible.
My store is located in Gimpo, Korea, and I am inspecting and packaging the products myself.
Everything departs from Korea 100%.
If you buy something in my store, a small gift goes with you.
If you're curious about me, come visit Instagram.
(https://instagram.com/seojin_0619)
THANK YOU~😊
#korean#korea#Grill #camping #Barbecue #Frying Pan #Healing #Travel