Pulmuone Rojas Glory Cleansing Enzyme Powder
Glorious cleanser that cleans old dead skin cells with natural enzyme ingredients to make your skin glossy.
🎈All products are shipped from Korea.
The seller packs it and sends it to you.
Delivery : takes 7-10 days Ship from Korea ✈
💖Official mall products
To explain the best product to customers
I don't know English well, but I'm doing my best
I hope that my sincerity will be conveyed.
✨Please refer to the top image for details.✨
🎉a seller certified by the headquarters in Korea🎉
Mild exfoliating care for soft, glossy skin!
Mild old exfoliation of natural plant-derived enzyme complex Minimized darkening by fundamental exfoliation of skin
Slightly acidic cleansing
-It is slightly acidic to keep your skin healthy.
Shine
-Vegetable enzymes remove dead skin cells to make your skin soft and shiny
Clean Beauty
-EWG green grade ingredients, allergen-free natural fragrance, pursued safety.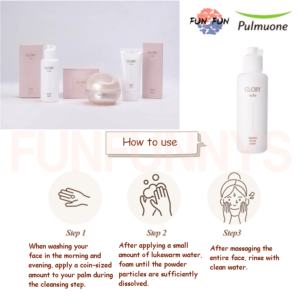 · Capacity: 50g
· Skin troubles: skin care
Brand: Pulmuone Lohas issilin
· Country of manufacture: Korea
🏆 Lohas is human and nature together
Lohas Company
LOHAS certification, which has strict evaluation conditions such as product process, quality, safety, and hygiene.
It is a corporate product acquired for 12 consecutive years.
Pulmuone is a company with the philosophy of loving neighbors and respecting life.
Koreans support and love the Pulmuone company. We recommend products from
 Pulmuone, the leader in good food, to you
☎ Customer response time
▶Monday to Friday : 11 am to 10 pm
If you have any questions, please leave a message on chat.
We are trying to reply as soon as possible.
My store is located in Gimpo, Korea, and I am inspecting and packaging the products myself.
Everything departs from Korea 100%.
If you buy something in my store, a small gift goes with you.
I hope that my sincerity will be conveyed.
THANK YOU~😊
#korean#korea#FullMoooneLohas #issilin #Clean #Beauty #K-Cosmetics #White #Gift