Space sterilizer when sterilization is needed in large spaces! 
Pure:liv sterilization cleaner
Delivery : takes 7-14 days Ship from Korea ✈
✨Please refer to the top image for details.✨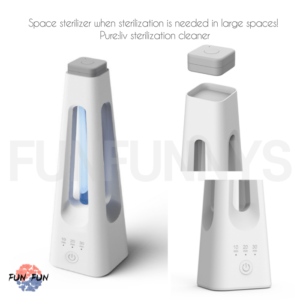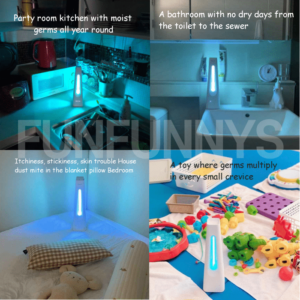 Habitat of all kinds of bacteria bacteria fungi
restroom
Can't it be boiled whole?
Yes, it is possible!!!
It's enough with just one button~
It's unbelievable, but it's true.
Smart people know that their bodies don't have to suffer.
Boil, wash, clean and stop struggling
The light is faster than you.
Easy to finish with Pure:liv UV sterilization
In addition to the recent contagious disease, if it is a contagious disease, you should be more careful, right?!
I'll show you how to get rid of germs that don't die by cleaning.
Dry heat sterilization method
Heat treatment at a high temperature of 150 degrees or more for 1 hour
Hot water sterilization method
Boil for at least 30 minutes in 100 degree boiling water
Steam sterilization
Adding steam for 15 to 20 minutes at 121 degrees Celsius at 1 atmosphere
Ultraviolet sterilization
Tok! UVC UV rays
Which method do you like?!
Size:289.5*84.5*84.5mm
Material: ABS, silicone
Weight: 350 g
Timer: 3 modes (10,20,30mins)
Rated voltage/current: DC5V/2A
Rated output:10W
UVC wavelength: 253.7nm wavelength sterilization
Safety certification number: XU101021-18012B
☎ Customer response time
▶Monday to Friday : 11 am to 10 pm
If you have any questions, please leave a message on chat.
We are trying to reply as soon as possible.
My store is located in Gimpo, Korea, and I am inspecting and packaging the products myself.
Everything departs from Korea 100%.
If you buy something in my store, a small gift goes with you.
I hope that my sincerity will be conveyed.
THANK YOU~😊
#UVC#sterilizer