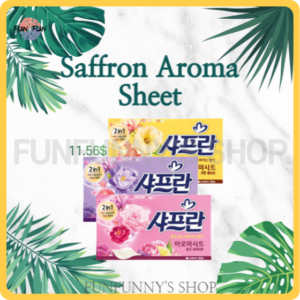 LG Saffron Aroma Sheet Fabric  LG fabric softener 30 × 1 set   fabric conditioner
Delivery :  takes 7-14 days Ship from Korea ✈ 
Capacity : 13 x 6 x 23 cm 용량
Fresh Dream Scent  1 box × 30 sheets
Pink Sensation Scent  1 box × 30 sheets
Cotton Blossom Scent  1 box × 30 sheets
-Because it is light, even by yourself with one hand!
Don't shop heavy anymore
-Easily pull out and put it in, and you're done!!
The liquid softener that you spill on the floor and spill on your hands.
Break up now!
-Reasonable with fixed amount use! economical
It's a small and pretty tissue box, so it's good for storage.
How to use
-At the last rinse, open the lid of the washing machine and
Flatten and put in.
Product Name: Aroma Sheet 30 Sheets
Manufacturer: LG Household & Health Care
Country of origin: Korea
★The box design of the product depends on the new product renewal.
     May vary★
☎ Customer response time
▶Monday to Friday : 11 am to 10 pm
▶Weekend : 12pm to 8pm
If you have any questions, please leave a message on chat.
We are trying to reply as soon as possible.
My store is located in Gimpo, Korea, and I am inspecting and packaging the products myself.
Everything departs from Korea 100%.
If you buy something in my store, a small gift goes with you.
If you're curious about me, come visit Instagram.
(https://instagram.com/seojin_0619)
THANK YOU~😊
#Korea #Korean#LG #Saffron Aroma Sheet Fabric#LG fabric softener#fabric conditioner